Here's more from the cartoon.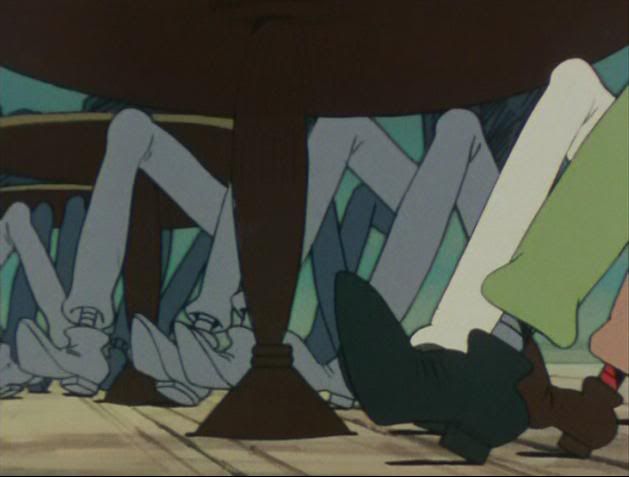 This is a hilarious shot. The scene is showing us that this nightclub is a naughty place filled with gangsters, loose women and the devil's music (ragtime), and in the middle of it, we pan under a table and see that all the gangsters are tapping their feet in perfect unison. It's not a weird idea or anything-- it makes sense that they'd be tapping their feet to the music, but somehow I find it hysterical. Tapping your foot to music just seems like such like such a tame, wholesome activity.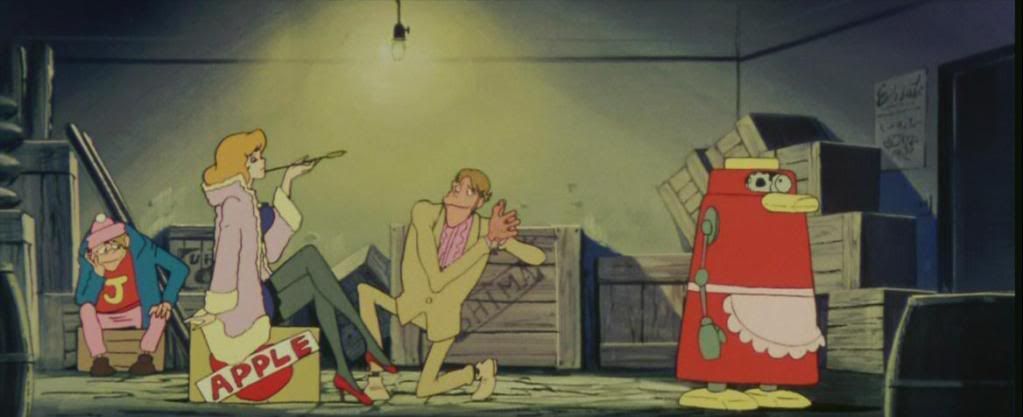 Okay, so here are the characters who really occupy most of this episode. Gavotte the gangster, his moll Baby, and this weird kid named One-Eared Joe. They've stolen this robot from an eccentric scientist named Dr. Pot (why exactly is he named Dr. Pot?) that's supposed to 'cry' diamond tears. As I said, it's a weird premise, especially given that the robot doesn't actually cry, or do anything. It's just a static machine, and it barely even resembles a humanoid in the first place. You wonder why the diamonds wouldn't just come out of a hole or something. The 'crying tears made of diamonds' idea seems a bit under-developed... or should I say 'half-baked?' Maybe that's why he's called Dr.
Pot
. It was the 70's, after all.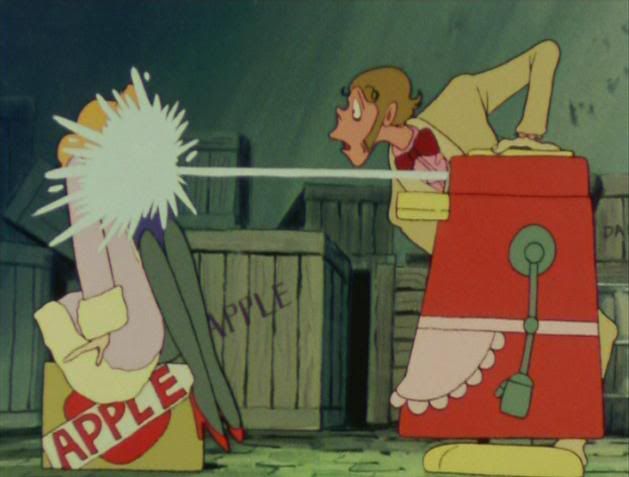 So we've seen the robot make diamonds earlier in the episode, but now that it's back at Gavotte's place, it just shoots water.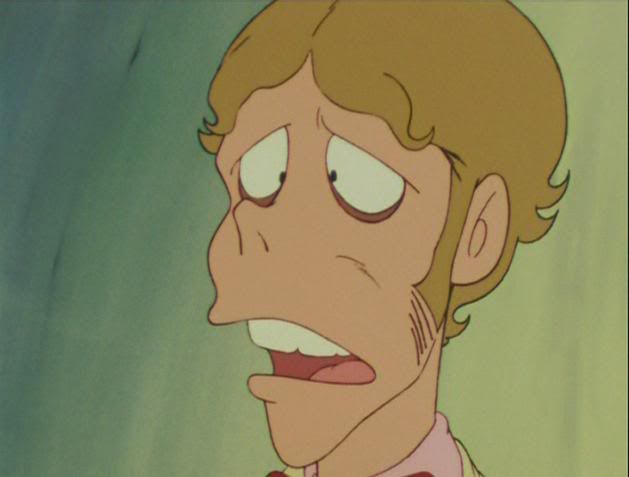 Gavotte is confused. Also funny-looking.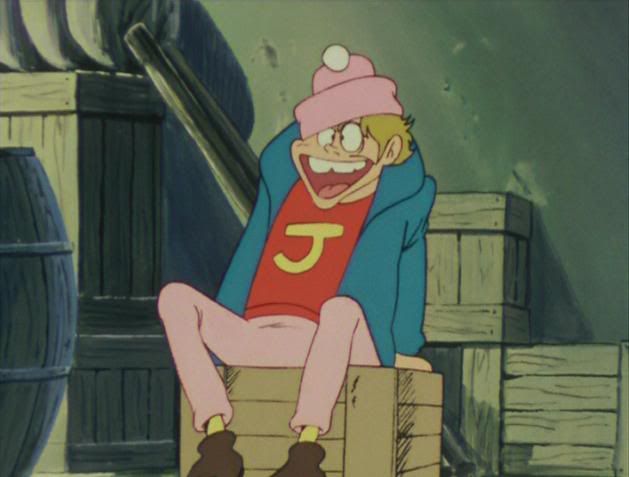 As I said, One-Eared Joe is kind of a weird character. He just sits in the corner and laughs hysterically at Gavotte. Kinda seems like he's not all there.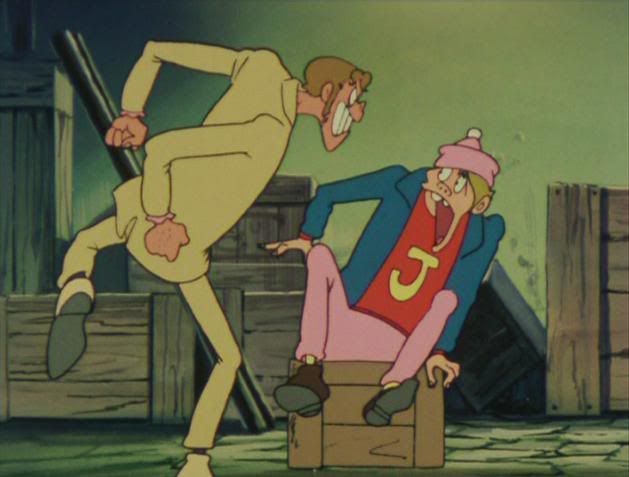 But it never really explains why the kid hangs out with Gavotte and Baby (what kind of name is
Baby?
It's not just Gavotte's pet name for her, as everybody in the episode calls her that). It never really explains
anything
about these characters. I guess it's not really necessary, but it is a bit awkward at first.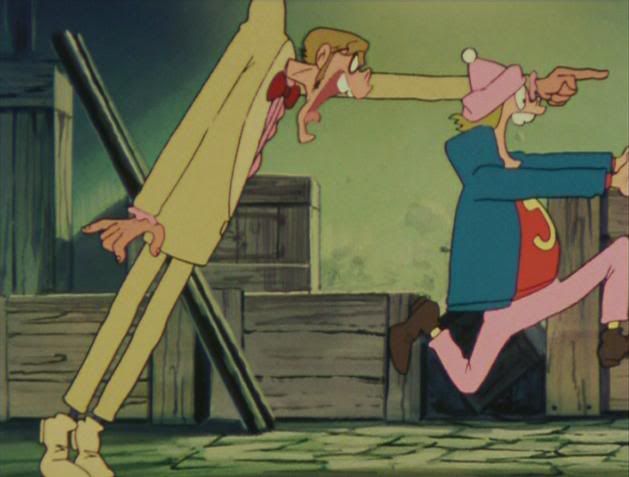 Gavotte's voice and dialogue are great.
"Shut yowah yap One-Ear! Do I amuse you? Do I make you laugh?"
I think he's played by Tony Oliver, but I'm not 100% sure.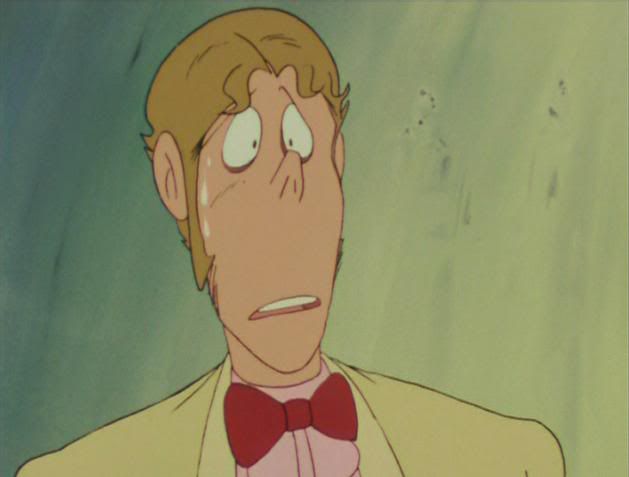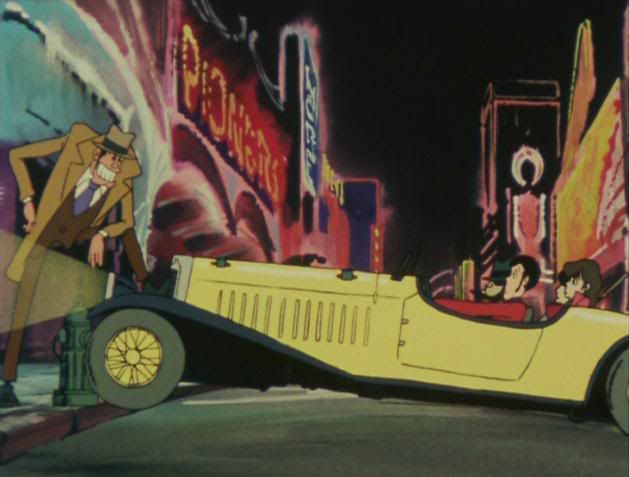 While trying to retrieve the robot, Lupin and his gang run into Zenigata. Normally he's obsessed with trying to arrest Lupin, but not in this episode. Instead, he's in town to see a Liza Minelli concert.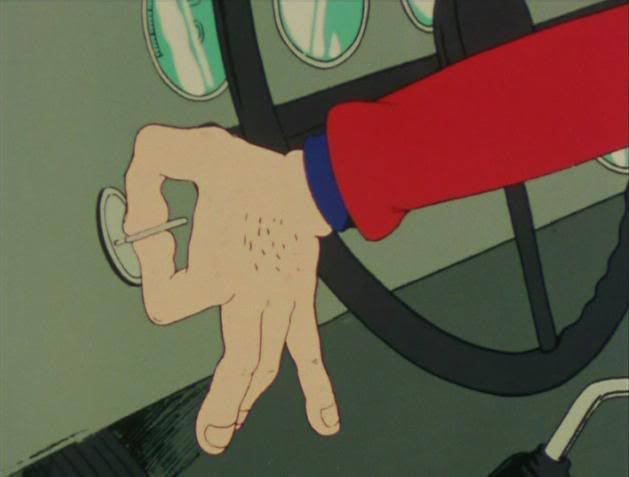 This is just a simple shot of Lupin inserting his key, but even it's kind of cool. It's better in motion though.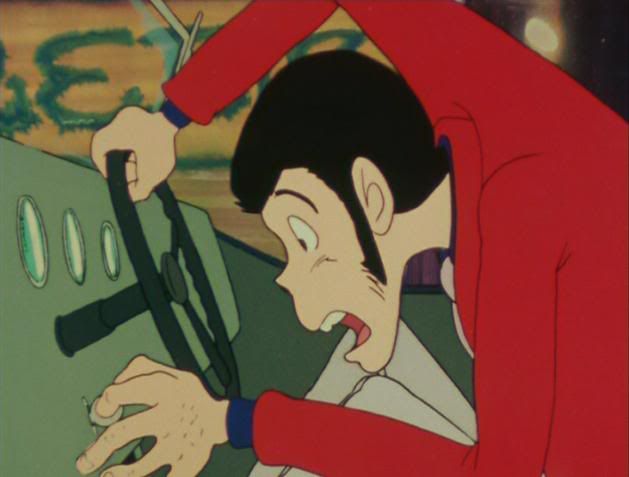 Eventually Lupin gets away, but Zenigata's obsession gets the better of him, and he hails a taxi, ordering the driver to "chase that car." This gag is sort of a twist on the old joke that was also used in the Muppet Movie-- Instead of just driving after Lupin without Zenigata, which is the standard joke, he strips down to his underwear, makes Zenigata fire a starting gun and chases Lupin on foot: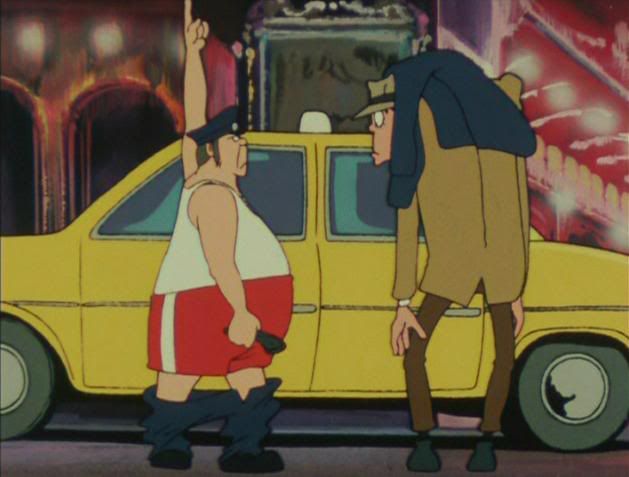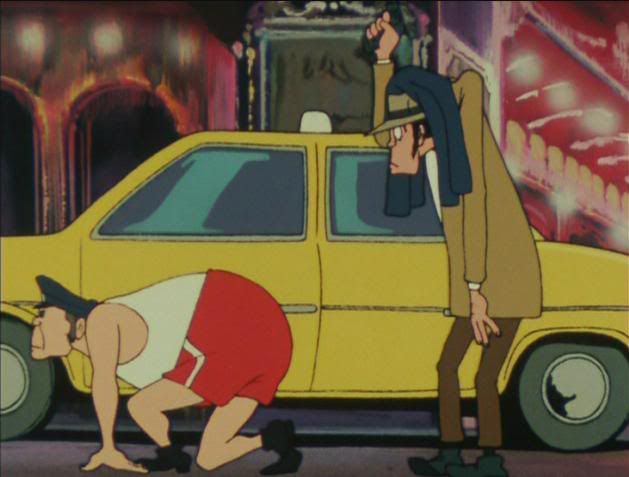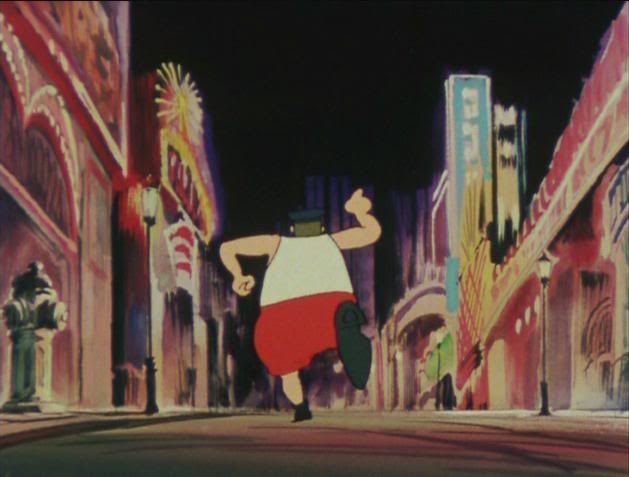 Zenigata observes that for a man his size, the guy sure is a fast runner.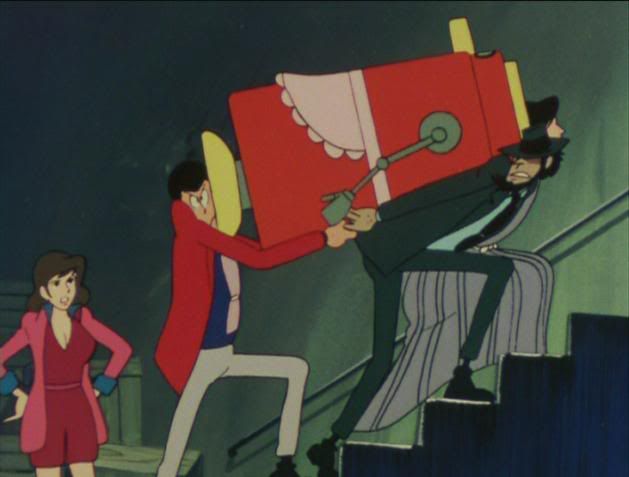 Lupin soon gets the ice robot, while Gavotte's gone out for a drive. Look at Lupin's face in this picture, and tell me this wasn't the same guy who did the "Secret of Mamo" designs.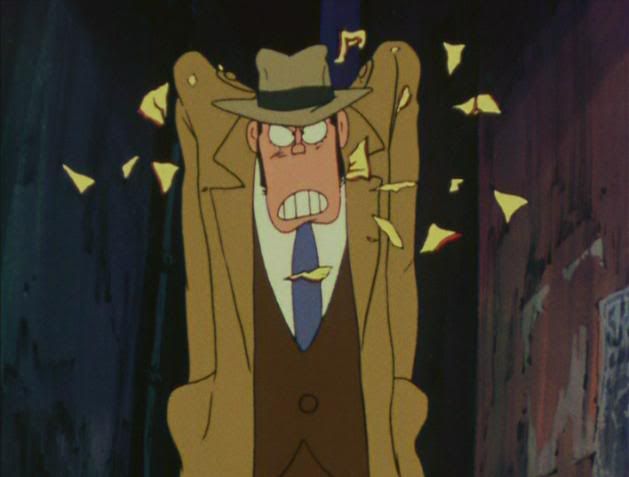 Zenigata sees Lupin again, and finally rips up his ticket in frustration. He gets another taxi.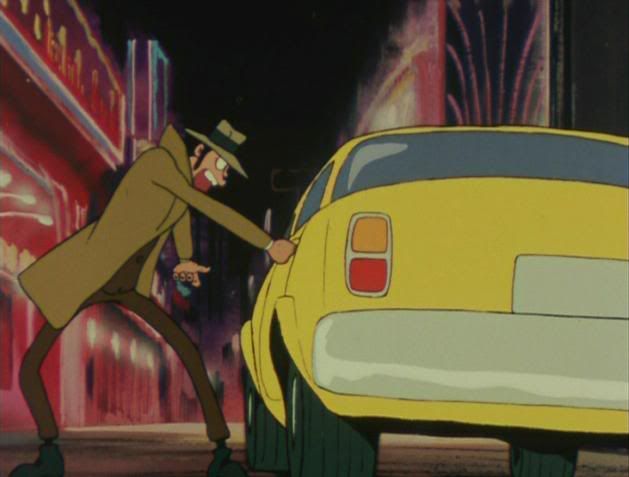 It's the same driver, but he won't make the same mistake twice.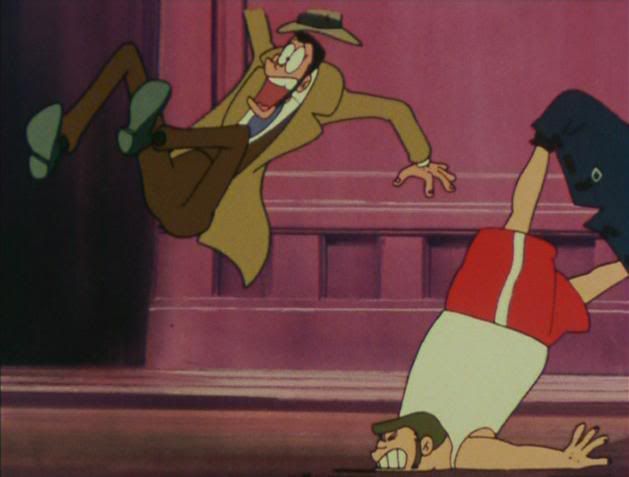 I love these poses. Notice the camera error in the last one, along the top of the image.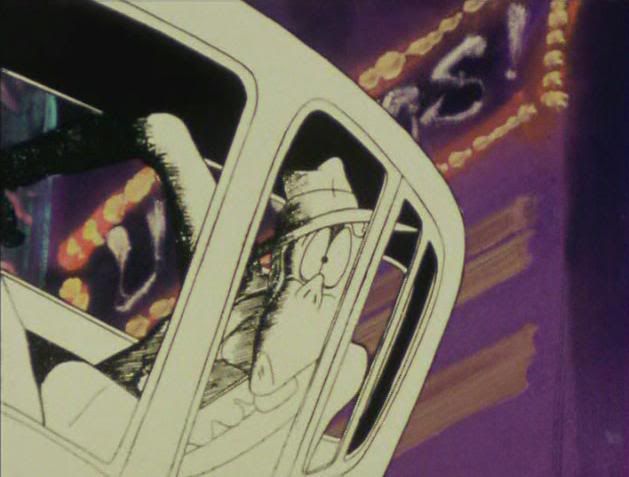 When somebody makes a turn in this cartoon, they really turn! Gavotte's face in this one also really reminds me of the Mamo movie.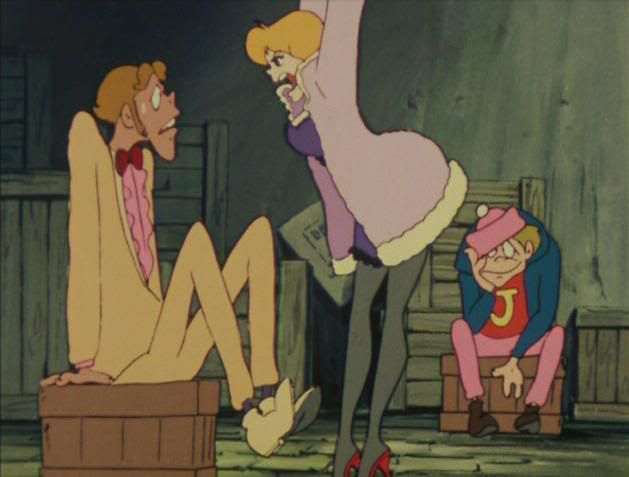 More domestic abuse in Gavotte's basement.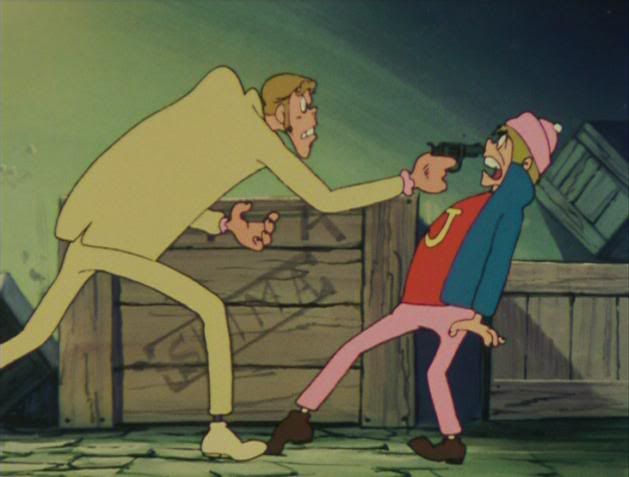 "Dat's not a joke, One-Ear! You keep this up and pretty soon you'll be changin' yah name to No-Ear!"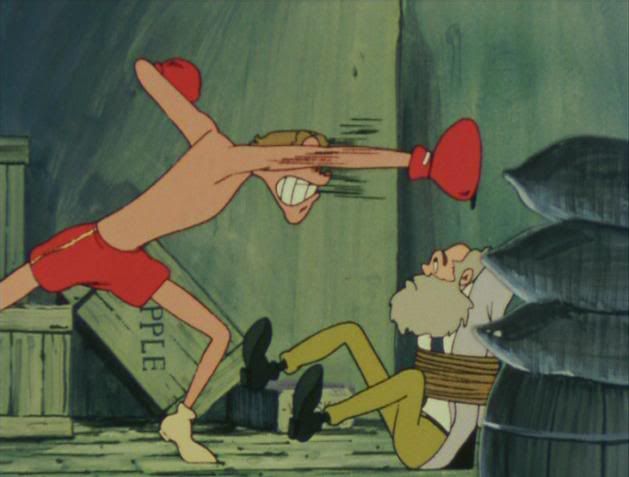 Gavotte decides that boxing is the best way to get information about the robot from Dr. Pot.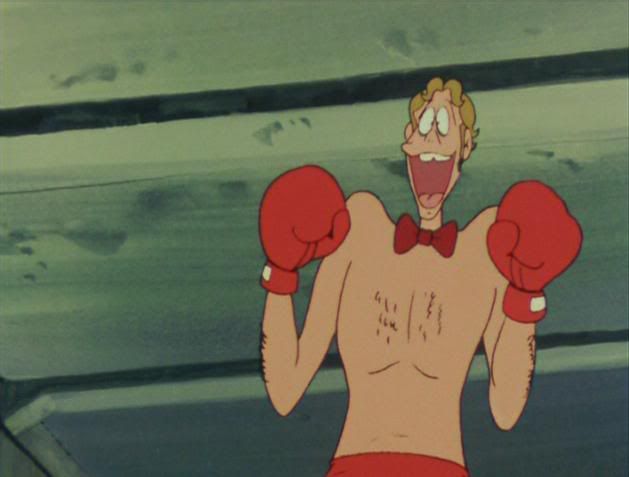 Part 3 is on the way.