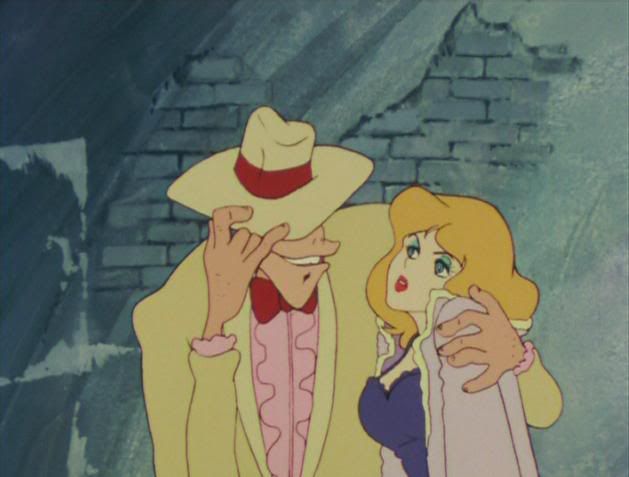 Lupin and the rest have brought the robot back to Dr. Pot's place. About to enter, Gavotte stops to observe "oh Baby, you are so damn bee-yootiful."
Again, this is just a shot of a guy opening a door, but I think it's really funny.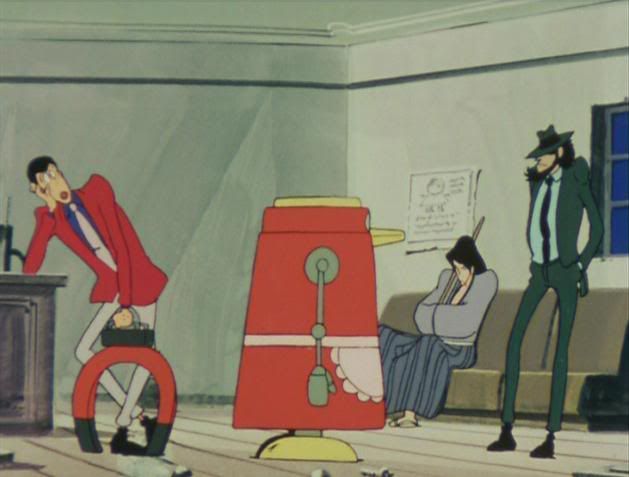 Inside, as our heroes look around and wait for Dr. Pot to get back. The lab is full of bizarre devices like a giant magnet. According to Lupin, it doesn't work.
Meanwhile, Jigen has trouble with a nose-blowing machine.
Suddenly, bullets fly through the windows!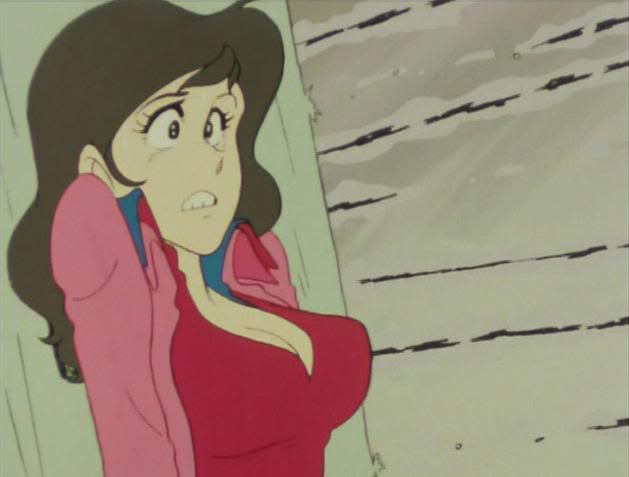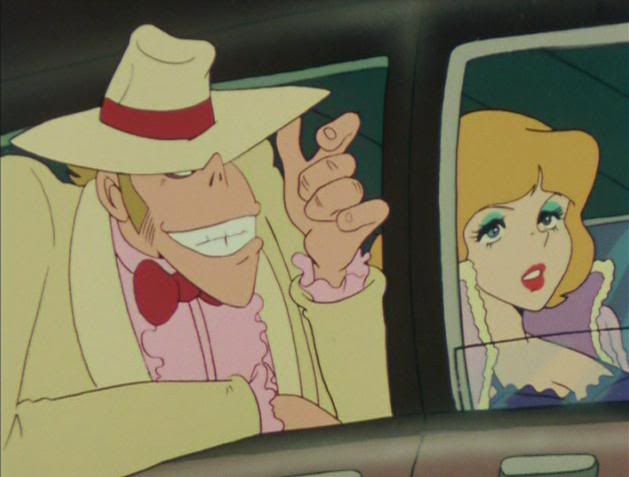 It's Gavotte, come back to re-steal the robot.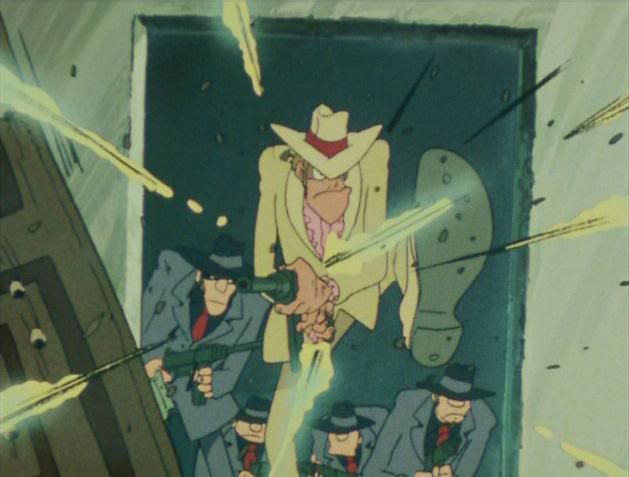 This is one of my favourite shots. Apart from this great image, I like it because Gavotte yells "YAAHHHH!! SHOOT STUFF!!!"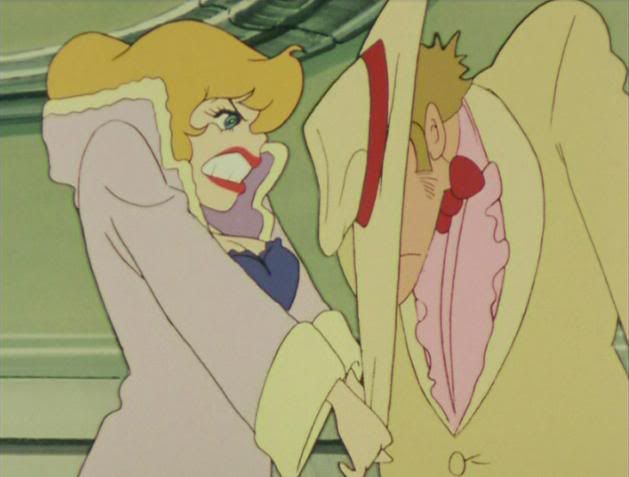 Eventually they realize there's nobody there. Baby is not pleased. Nice cartoony stretching of the hat here. Cartoony stretching and squashing, which is the bread and butter of classic Western animation, is really rare in Japanese animation.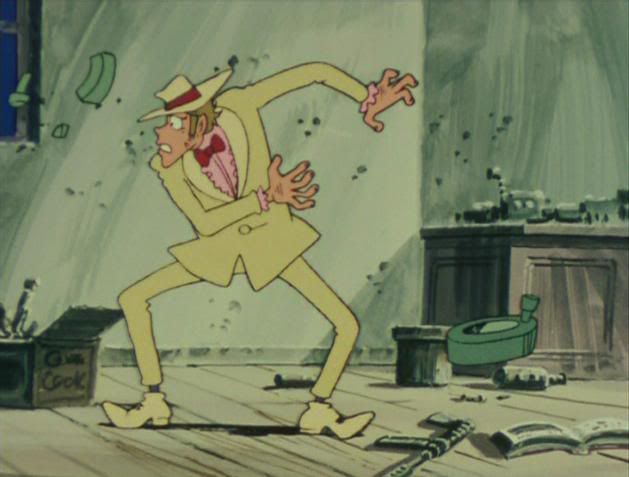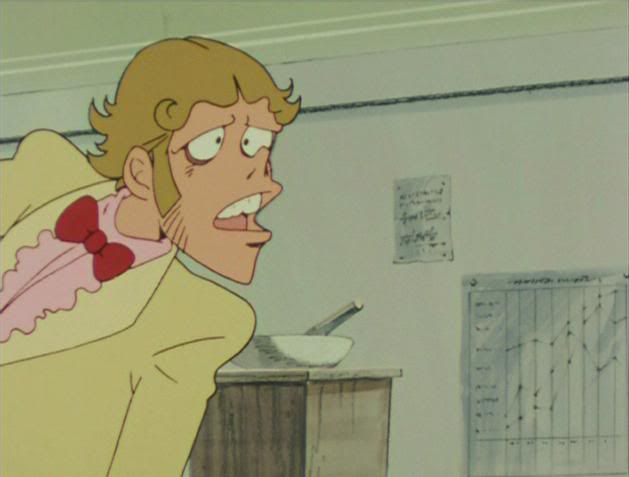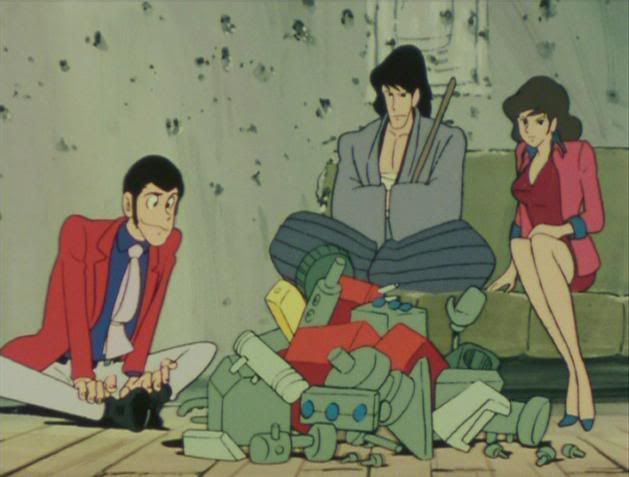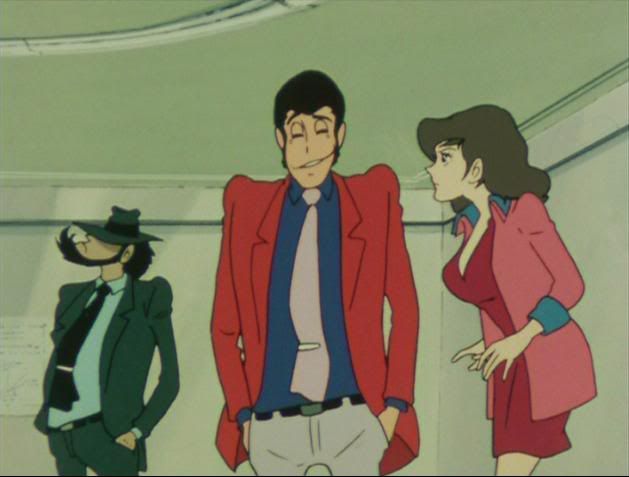 Eventually Lupin and Gavotte agree to meet at an amusement park at sunset, to exchange the robot for Dr. Pot.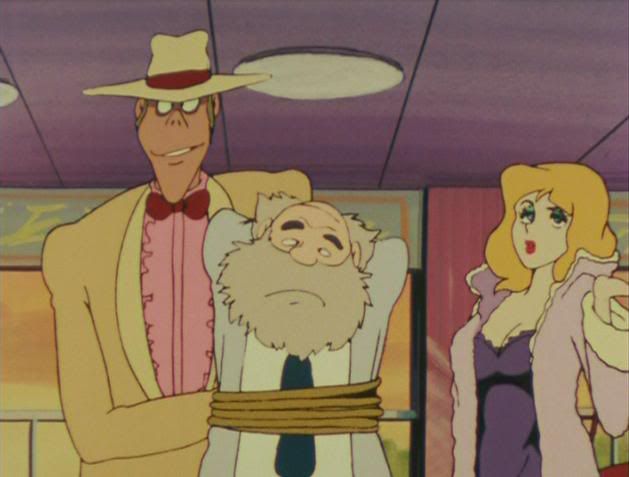 All does not go well.
Dr. Pot and the robot wind up in the same roller coaster car.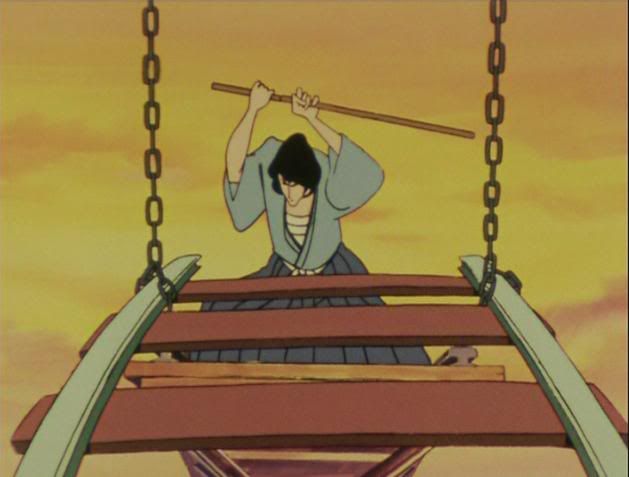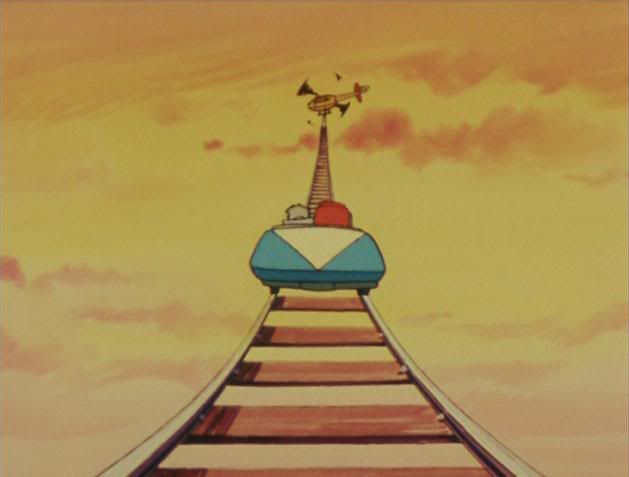 Goemon slices the track with his "deus ex machina" sword, and Jigen lifts it up, in a helicopter. Only in a cartoon...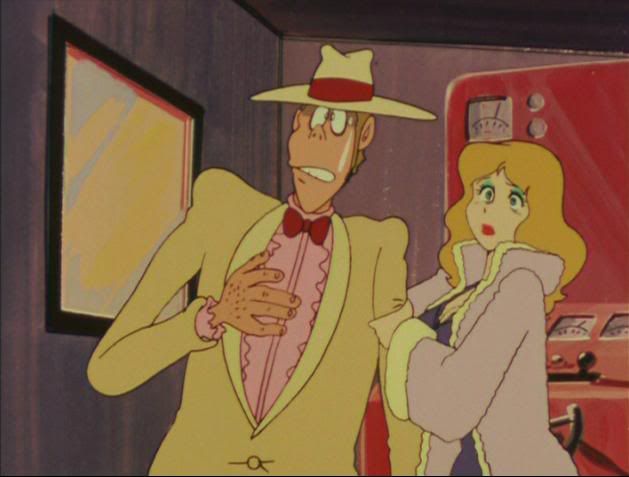 This causes the car to roll back to Lupin and Fujiko.
Gavotte doesn't like that, so he sends his men up after them.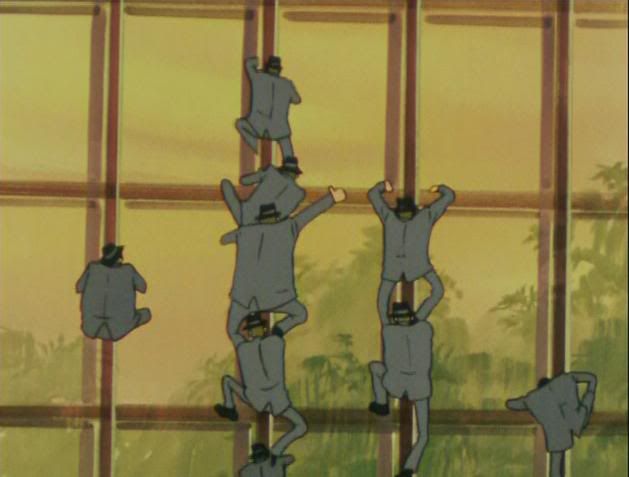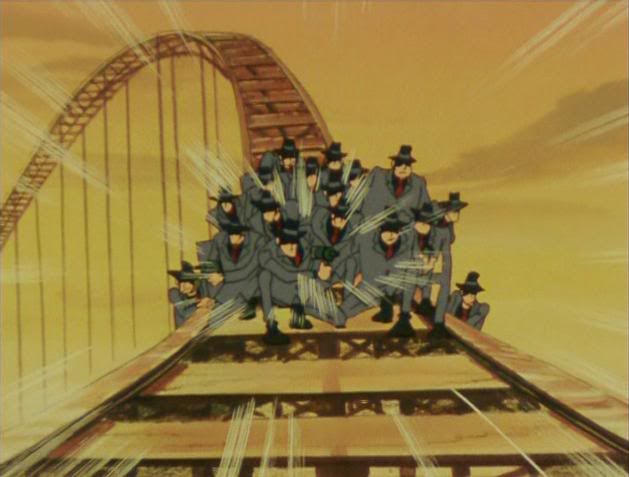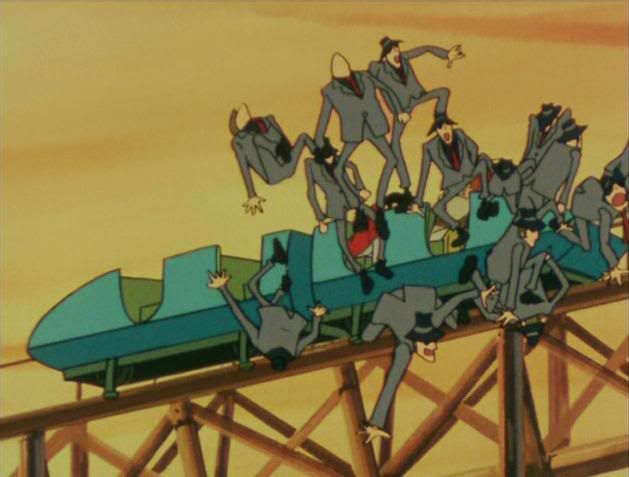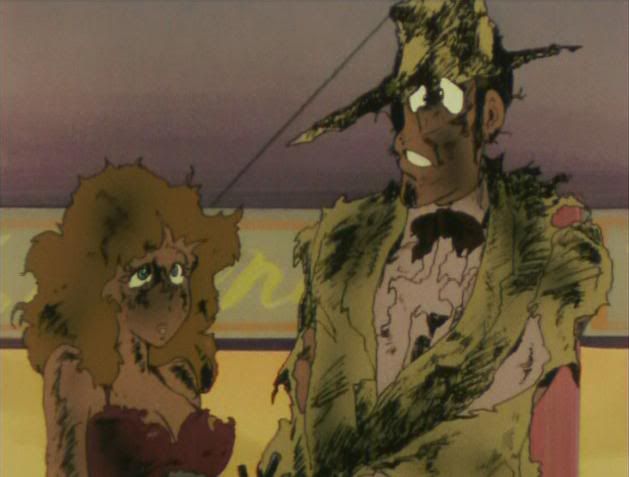 Then Lupin makes Gavotte and Baby asplode.
But as the heroes are rolling away, who should jump down onto the car but Zenigata?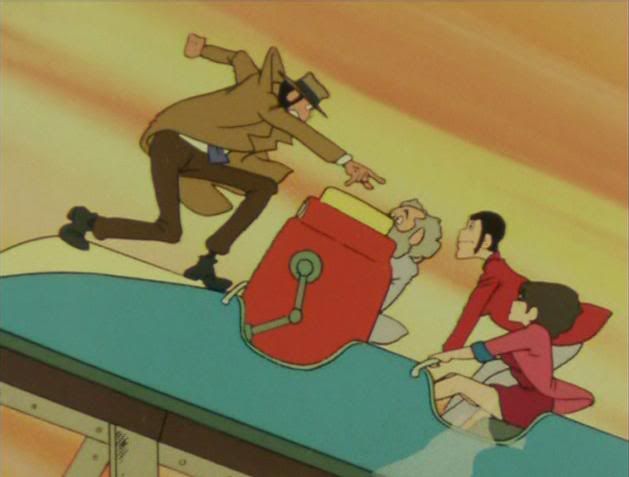 He announces that Lupin's under arrest, but then the car flies off the track (which Goemon cut).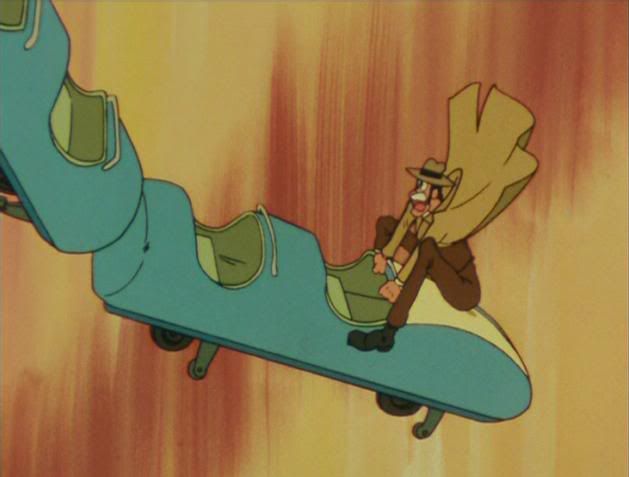 Lupin and the heroes escape by holding onto the robot, which Jigen lifts in the helicopter using the super-magnet from the lab. Apparently it does work after all.
Dr. Pot is re-united with his robot, which as it turns out, has been broken and now only makes diamond-shaped ice cubes. Dr. Pot is more excited about that than he was about the diamonds.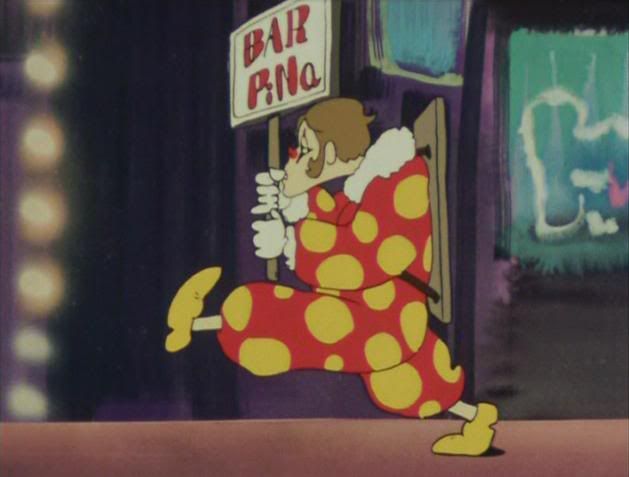 And so Gavotte quits being a gangster and becomes a clown.
The End.
This mystery animator/layout artist/director was sometimes given material that didn't play to his strengths, similar to how Terrytoons didn't always give Jim Tyer the most appropriate scenes (versus Bob Clampett's Looney Tunes unit where Rod Scribner got the craziest scenes, Bob McKimson got mostly the low-key straight ones that required really solid draftsmanship, etc). Off the top of my head, I can recall one other episode he did at least part of-- "Zenigata Get You into my Life." That's one of the more dramatic episodes, and so he wasn't able to do as much with it. I don't remember thinking that it was that great, because he's best suited to funny comedic poses and flat staging, whereas in that episode he was required to do more 'straight' work. In Mamo the poses aren't quite as funny as these, but I'm not sure how exactly he was involved in it, so I don't know whether it was the fact that it was a bit more drama-oriented, or the fact that he was less involved in the animation. As I re-watch other Lupin episodes I'll try to find others where I can recognize the guy's drawing style.
I should point out that this episode is available on the final volume of Geneon's Lupin the Third DVD series-- Vol. 15,
'Thievin' Ain't Easy.'